Introducing
Snapdragon Sound™
Premium sound experience
With Snapdragon Sound technology, listeners can finally hear every detail of their music just as the artist intended, get fully immersed in lag-free mobile gaming with ultra-low latency, and feel better connected to colleagues and loved ones through voice and video calls with true-to-life audio. Snapdragon Sound: it's how sound should sound.
What is Snapdragon Sound?
Snapdragon Sound technology is designed to provide listeners with among the very best in audio experiences—whether they're gaming, streaming music, or making voice and video calls. By optimizing Qualcomm® technologies across connected devices, Snapdragon Sound is designed to deliver a virtually seamless experience that's crystal clear, consistent, and captivating.
n
Experience music exactly as the artist intended with support for lossless and high-res music streaming.
Stay connected with crystal clear-voice and video calls thanks to support for super wideband voice.
Get fully immersed in lag-free gaming with support for ultra-low latency between your phone and earbuds.
Enjoy glitch free audio even in busy environments, with no annoying audio drop-outs or glitching.
Experiences with Snapdragon Sound
With Snapdragon Sound and Amazon Music Unlimited's premium quality streaming audio, you can experience every note and nuance of your favorite songs. Cue up our exclusive Ultra HD playlist on Amazon Music to hear the difference for yourself.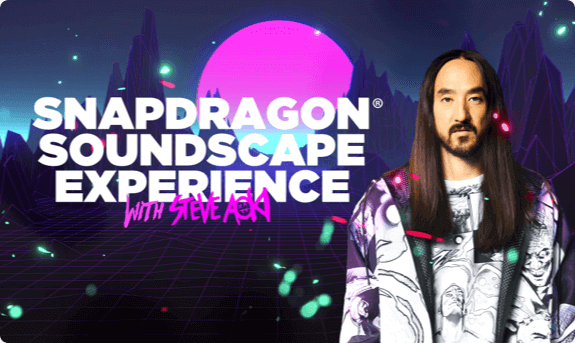 Steve Aoki delivers a visceral listening experience with Snapdragon Sound.
We tapped Steve Aoki to unlock the secrets of immersive audio in this mesmerizing Snapdragon Insiders experience. Let Steve be your guide as music and imagery collide like never before.
Learn more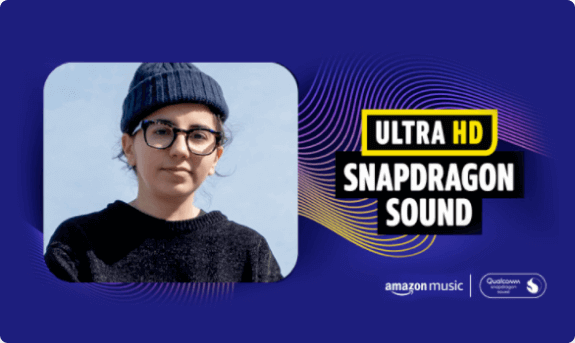 The Snapdragon Sound playlist is available now on Amazon Music HD.
Snapdragon Sound is a product of Qualcomm Technologies Inc. and/or its subsidiaries
Learn more
Find devices with
Snapdragon Sound™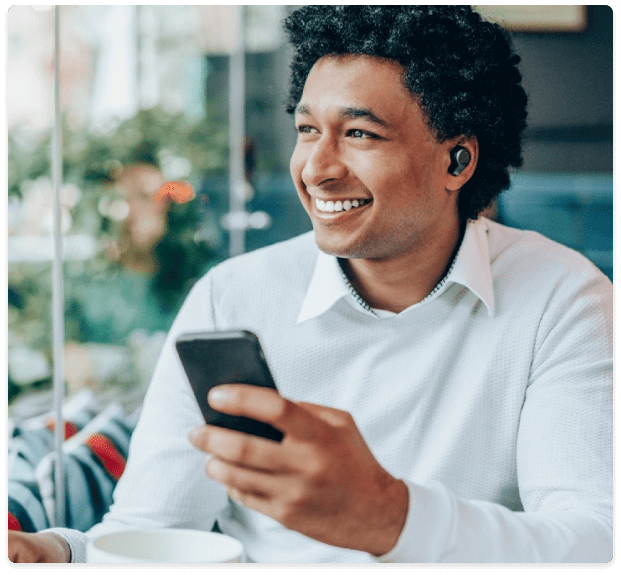 How does Qualcomm® aptX™ audio technology work?
aptX is a proven technology that compresses and then decompresses audio as it travels from a source device like a phone, to a receiving device like a wireless speaker, in a way that it can be transmitted over Bluetooth without damaging the quality. This ensures that you get the very most from your audio.
Just look out for the aptX logo
It means you'll enjoy superior wireless audio experiences every time. So you can enjoy the experiences that help you to have fun, relax and socialize, with no disruption in sound quality.
Wireless gaming and video
Exercise without the wires
Watching a film in the car
Meet the aptX family
aptX audio technologies are designed to provide great sound for music, calls and more. Used by many of the world's finest smartphones, speakers, soundbars, headphones and earbuds – just look out for the aptX badge, it means you'll enjoy a great wireless audio experience every time.
Qualcomm aptX is a product of Qualcomm Technologies, Inc. and/or its subsidiaries.